This post is just for fun, but it does go to show you that mathematics is more than just numbers and equations. You can actually do fun and cool things with it! What I'm about to show you probably won't get you any bonus marks on a math test, nor will you likely be able to actually do this by hand, but it is definitely amazing what a bunch of math formulas can produce! By now, you know that every equation gives you a differently shaped curve on a graph. You probably know what kinds of equations will always give you a parabola, and you may know what kinds of equations will give you a curve with 7 different humps on it. But you have no idea what the graphs of some of these complex equations actually look like!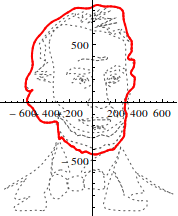 Believe it or not, equations have been devised whose curves on a graph actually show you portraits of famous people! It's true! Check out the graphs of Steve Jobs and Abraham Lincoln, shown below!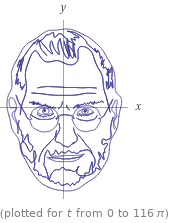 If you want to explore these amazing math masterpieces, Wolfram Alpha has a collection of line art portraits that are created from very complicated parametric functions. I'm sure these are devised by a computer. I'd have a very hard time believing that someone came up with any of these formulas! I'm not even going to pretend to understand some of the functions that are used in the equations. Nevertheless, this is probably one of the coolest graphing examples of complex math expressions that you will ever see.

Mathematica Stack Exchange has a more in depth analysis of how these curves are made, if you want to know a bit more about them. Otherwise, check them out in the gallery at Wolfram Alpha! Which one is your favorite?